Our bags and accessories are handmade from 100% recycled sails. Sail fabrics consist of synthetic fibers whose disposal is normally costly and difficult. We give new life to these fabrics through our products, and take advantage of their exceptional strength and durability properties.
Dacron
Dacron is polyester synthetic fiber, widely used for making sails (usually mainsail and jib). It is characterised by a peculiar white color and several seams. Due to its durability and strength the fabric is particularly suitable for creating bags and accessories.
Carbon Fiber Laminate
The laminate is composed of carbon fibers enclosed between two plastic resin layers. It is used for high performance sails and unlike dacron it consists of a stiffer fabric, in order to keep the shape of sails stable while racing. Each sail comes as a unique weave of black filaments (unidirectional or criss-cross weave) enclosed between transparent or white layers.
Kevlar fiber laminate
It is enclosed between two plastic films just like carbon laminate, but the inner weave is made of Kevlar filaments. This material increases the stiffness of the sail for high performance. It comes as green/yellow filaments (unidirectional or cross-weave) enclosed between transparent layers.
Nylon (spinnaker, gennaker, kyte)
Spinnaker, gennaker or kitesurf sails use a very light and thin fabric, often characterised by very bright colours. It can be also used as an inner lining for bags.
Not only sails
Not only sails: to produce Bolina Sail bags and accessories we draw on a wide range of complementary materials to make our bags more robust and ergonomic. We carefully select each one of them so that every detail of Bolina Sail bags and accessories reflects a vision of long-term sustainability and durability. We collaborate as much as possible with suppliers in our local area, in order to reduce the environmental impact of pollution. We look for people who share our same ethical values by taking care of the environment as we do.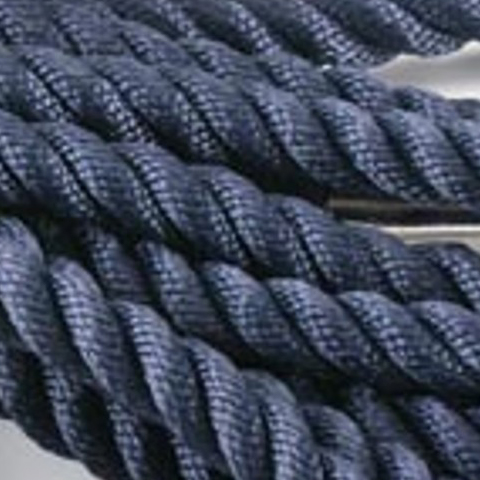 Nautical rope
We use original nautical ropes for most of our bags, for both functional and decorative purposes. We have chosen genuine nautical ropes of the highest quality, to ensure maximum durability and to accompany our sails to a material that belongs to the world of adventure and sailing.
Le nostre borse sono
100%
prodotte da
vele riciclate
100%
confezionate
a mano
100%
italiane